7 min read
On Wednesday morning I was tired.
My original plan for the morning had been to get up early, do the nursery run, drive to the pool from there, swim, then get the grocery shopping done before heading to my physio appointment.
8:00 // blogging in bed
What happened instead, was that Edd got up with SJ , got her ready and took her to nursery. When he came back he brought me coffee to have in bed. I drank it and wrote my blog post, detailing what my Tuesday looked like.
9:30 // Physio
I then got up to make more coffee. I had a shower and cycled to physio.
Sometimes when I sleep in and my morning plans fall through, I feel bad. But I am trying to learn to listen to my body. To not drag myself out of bed bone-tired when I don't have to. So, I decided that the extra sleep was time well-spent.
On my way home, I quickly stopped off at Lidl to get some rolls and croissants.
It was a beautiful morning and I loved the short cycle ride in the fresh air.
10:30 // time for friendship
When I was back home a very good friend of mine came to visit. We haven't known each other very long but we always have such good conversations. She also has a great sense of humour that I appreciate a lot.
We drank coffee, ate croissants and talked and it was lovely.
13:00 // sourdough crackers
After she left I made some sourdough crackers. I had previously prepped the dough so all I needed to do was to roll them out, season, cut and bake them.
Our oven seems to bake everything a bit faster than what the recipes say. I know this but still managed to overcook them a bit. They still taste good though!
While they were in the oven I wrote a shopping list and spend five minutes journaling. Then, I grabbed some bags and went to pick up SJ from nursery.
Every time I leave the house I get so excited about the lilacs in bloom!
14:30 // grocery shopping
At nursery I talked to some of the other mums, which is always very nice. The nursery is very small and by now I know most of the kids, teachers and parents. It is a really lovely group of people.
Then, SJ and I headed to Lidl. In the morning I didn't have enough time to get everything we needed so I was back there a few hours later! Luckily it wasn't overly busy and SJ was very patient.
15:30 // snack + play time
Back home, I re-orgnised our fridge and SJ played. Then we had some fruit, yogurt and a bit of chocolate as a little treat.
Afterwards I folded laundry and SJ made "sausages" in her little kitchen.
16:15 // more friendship time
Then one of my oldest and best friends came by together with her daughter. SJ was so excited. She stood on the balcony for about 10 minutes awaiting their arrival and shouting their names.
My friends baby is a year younger than SJ. It was the sweetest thing to see the two of them interact with each other. SJ loved stroking her hair and kept bringing out toys for the baby to play with.
18:00 // cooking + bedtime
Edd came home and started making dinner. After our friends left I took over and he played with SJ.
Then we did the whole bedtime routine and I put SJ down.
20:00 // date night
On Wednesdays Edd and I normally try and spend the evening together. We make time to talk, watch a show together and normally have a nice dinner.
Today it was cauliflower hot wings, homemade chips and beans. It was really good! We continued watching "Self Made" on Netflix, which we are both really enjoying.
It was a really good day. On the spectrum between introvert and extrovert I am pretty much in the middle. I like spending time on my own, crafting, writing and reading. But I also really love people. I am so grateful for my friendships and my family.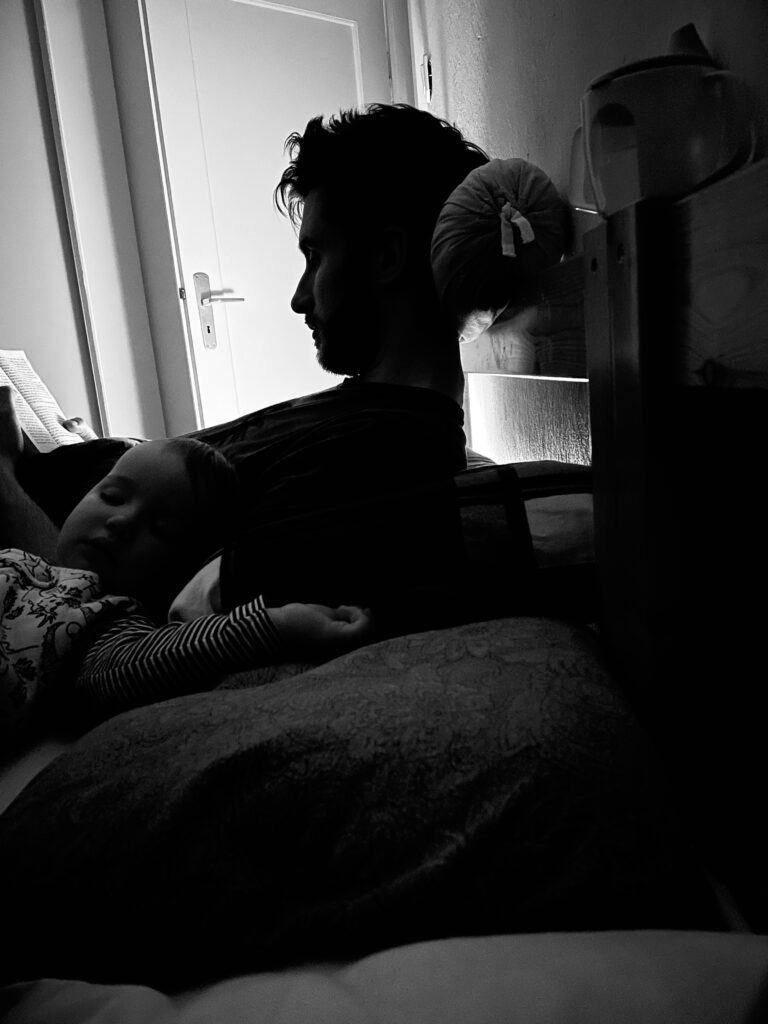 ---
This is Day 65 of my 100 Day Project. You can learn more about my 100 day project by reading this post. If you want to do your own 100 day Project, I would recommend checking out the 100 Day Project website.
I love hearing your thoughts and input on what you most like to read on here. It would mean so much if you would fill out my very short reader survey. Thank you!