13 min read
It has been a number of weeks since I have shared anything in this space. I had a few people mention to me lately that they like my blog and that they miss reading my posts. Comments like that are probably one of the most meaningful compliments to me. (So, thank you Kinjal and Elena!) And those statements encourated me to sit down despite my tiredness and write a little life update!
Pregnancy
Since yesterday I am officially in my third trimester. Nine months sounds like such a long time, but so far the time has flown by. I am doing okay-ish right now. From quite early on in this pregnancy I have been experiencing lots of back aches and in recent weeks have felt some of the same pelvic pain I had when I was pregnant with SJ, which worries me slightly. Sitting down or standing for long periods of time is especially aggravating.
However, despite that I am getting quite excited! On Friday I saw one of my oldest and closest friends and her 5 week old baby. And even though I was reminded of how demanding the first weeks are – meeting their precious little boy made me so keen to meet our baby.
Also, in the last few weeks SJ has become increasingly interested in playing with dolls and she is always super sweet when there is babies or younger toddlers around. There is a part of me that grieves that this season of it just being the three of us is coming to an end but I am also looking forward to see SJ finding her role as a big sister. I really hope that we will be able to communicate clearly to her that our love for her and her importance is not diminished in any way by the arrival of a new family member. If anyone has any tips on how to do this I would be very grateful!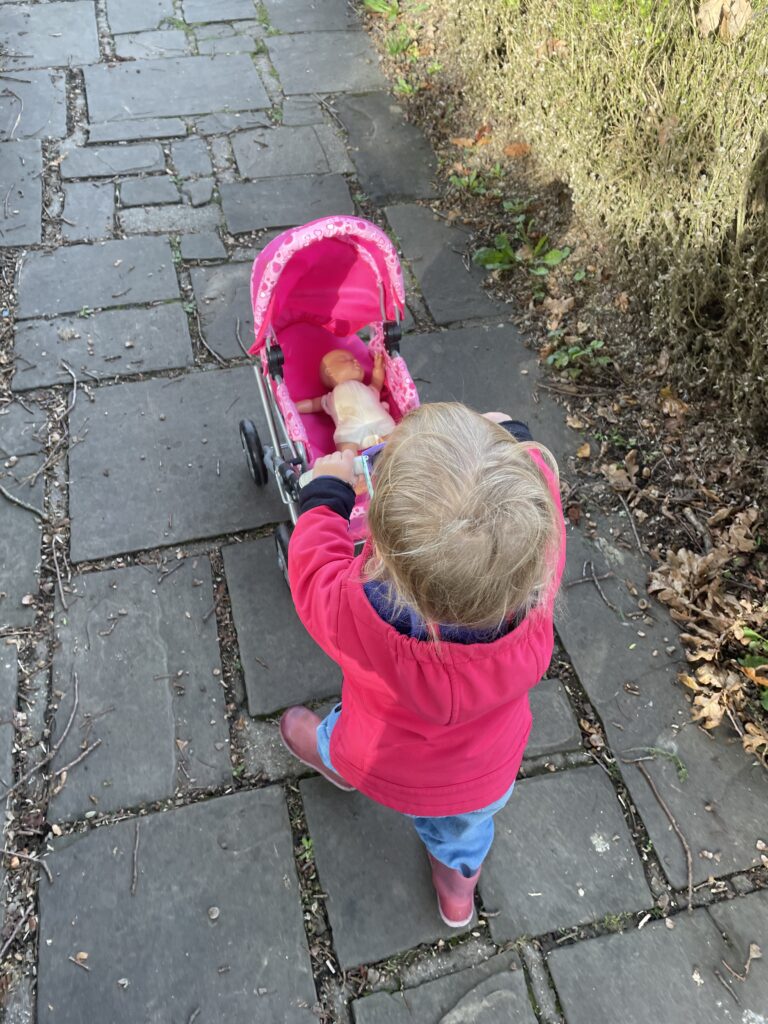 Adventures
I had quite a bit of time off from work during end of September and beginning of October and we did some traveling. Over my birthday in September SJ and I flew to the UK where we visited Edd in Sheffield. We met quite a few of his collegues, all of which were so nice. It was wonderful to see that Edd has found such a great place to work and I was very proud seeing how well liked and respected he is by everyone.
We then went to see some very dear friends in Yorkshire for a few days, I celebrated another year around the sun and went to Yarndale, a yarn festival in Skipton. It was such a fun day out and made me feel so inspired to knit all of the things! Also, I got to go with two of my favourite people (my friends Sarah and Holly) and it was just one of those days that left me feeling really happy and recharged.
In October we went on a holiday to Portugal together with Edd's dad, his sisters and their partners. We had such a lovely time. The weather was perfect and we had the most amazing holiday home with a pool. SJ was super entertained by her aunties and I got lots of time to knit and read. It was rather dreamy. After the week in the sun we braved a few days of cold and rain in England before flying back home.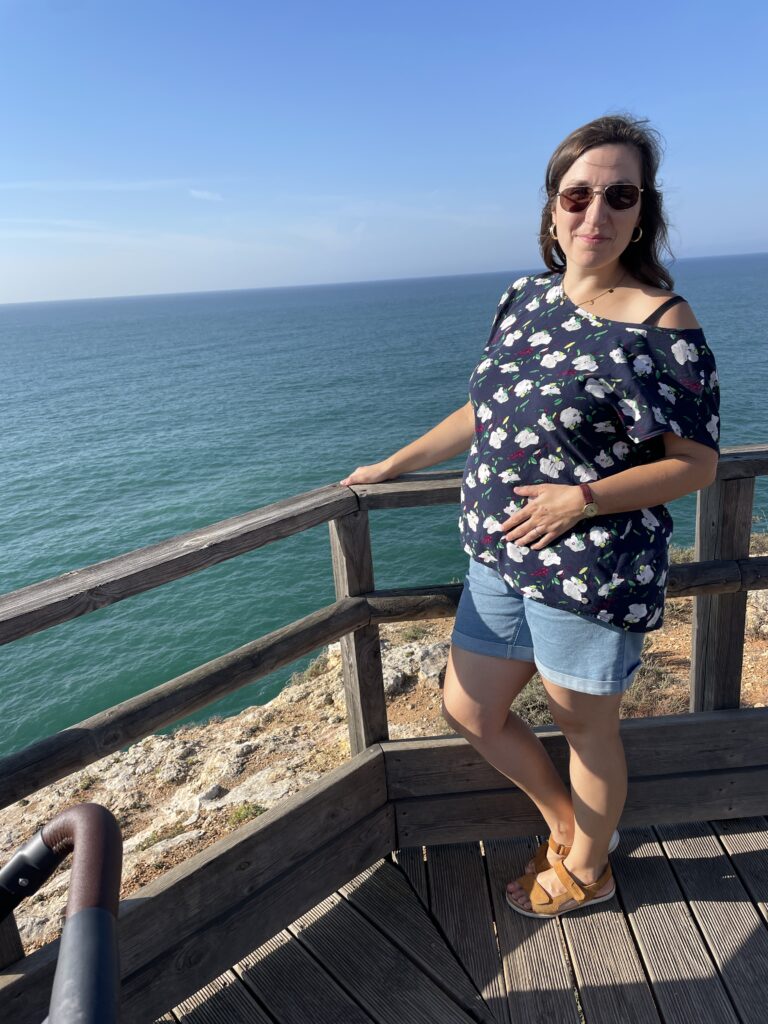 Reading
It's been nearly three months since my last reading update. I have read 11 books since then – some of them better than others! Here are my favourites:
"Lessons in Chemistry" by Bonnie Garmus. A book about science, love, cooking and gender inequality. I really enjoyed th writing. It was fun to read but also tragic and infuriating.
"Stay Away from Gretchen: Eine unmögliche Liebe" by Susanne Abel. This is a novel (in German) about the time in Germany just after the Second World War. Gretchen, a young German women falls in love with a black G.I. and falls pregnant. It's also rather tragic but highlighted a part of the history of the war and the time after it I was completely unaware of.
"Project Hail Mary" by Andy Weir. A very different book to the other two but I REALLY enjoyed this one. It's kind of hard to say what it is about without it sounding boring or terrifying. It was our book club pick for September. I would have never picked it up otherwhise but am so glad I did! Whether you're normally into sci-fi or not, I'd highly recommend this one.
SJ is enjoying me reading to her more and more as well! As I am always looking for good kid books I thought I'd document some of her favourites here as well. I have basically memorised a book by Benji Davies we got from the library. The German name of the book is "Quappi", the Orginal English title is "Tad". (It's a story about a tadpole.) The other one we read most nights right now sounds like a slight criticism of capitalism (which I am here for!). It is called "Dann rufen alle Hoppelpop" or "Hoppelpop and the best bunny".
SJ
I really enjoyed documenting some of SJs milestones and developments during my 100 day project, so here are a few things she has been up to:
She is talking so much now. In both English and German! For a while I was worried she wasn't learning enough English. However, during the summer she had quite a few weeks with Edd constantly around, then my friend Holly visted, we travelled to England and then obviously had a whole week with Edd's family on holiday. And she made such a leap in her English! I am continually amazed how well she switches between her two languages now.
She is really starting to play now. She pretends like she is going shopping and then comes back with "rolls and eggs" or talks into her playphone and says things like "Oh Opa, that is so funny!". She puts nappies on her teddies and explains her plans for the day to her cuddly toys. It's very sweet.
Most of the time she is pretty chilled for a toddler. But of course she has typical two-year old moments. Then she shouts "no!", "go away!" or just lies down on the floor and refuses to get up.
Even though she seems to really like a bit of adventure and meeting new people I realise that she struggles with being out of her normal routine for too long. Before our trip to Portugal she was ill for over a week. Meaning by the time we were back home she hadn't been to nursery in almost three weeks. The first week back was quite tricky and she seemed a bit unhappy. I am very relieved that she is back to her normal self now though!
Today we visited some good friends in the afternoon who have a little girl who is about six months older than SJ. While us adults stayed around the table chatting the two girls went off to play with toys in another room and just entertained themselves for quite a while. It's so nice to see how SJ is making friends and interacting with other children more and more.
The garden
September and October were lovley months for harvesting! We have had lots of delicious tomatoes. The peppers also did really well. There are still some green tomatoes on the vines, but we don't have enough sun anymore for them to ripen. We still have some Swiss chard, salad and red cabbage though that is going strong.
Other than picking vegetables I haven't invested much time into the garden. Bending down is becoming increasingly uncomfortable and we have been so busy! I am hoping to plant some easy crops for next year that I can maintain while also looking after a newborn. If you have any tips feel free to let me know!
Creative projects
I put on another sourdough starter! I made some very delicous bread and the starter was going really strong until we went on holiday and I forgot to put it in the fridge. When we returned it had gotten a bit modly, which was sad. I am definitely planning on another one though!
I bought some fabrics for a little quilt I want to make for the new baby. When I was pregnant with SJ I made one for her and she loves it. Which obviously makes me rather happy! I have cut all my fabrics and started sewing a few seams but still have quite a bit to do.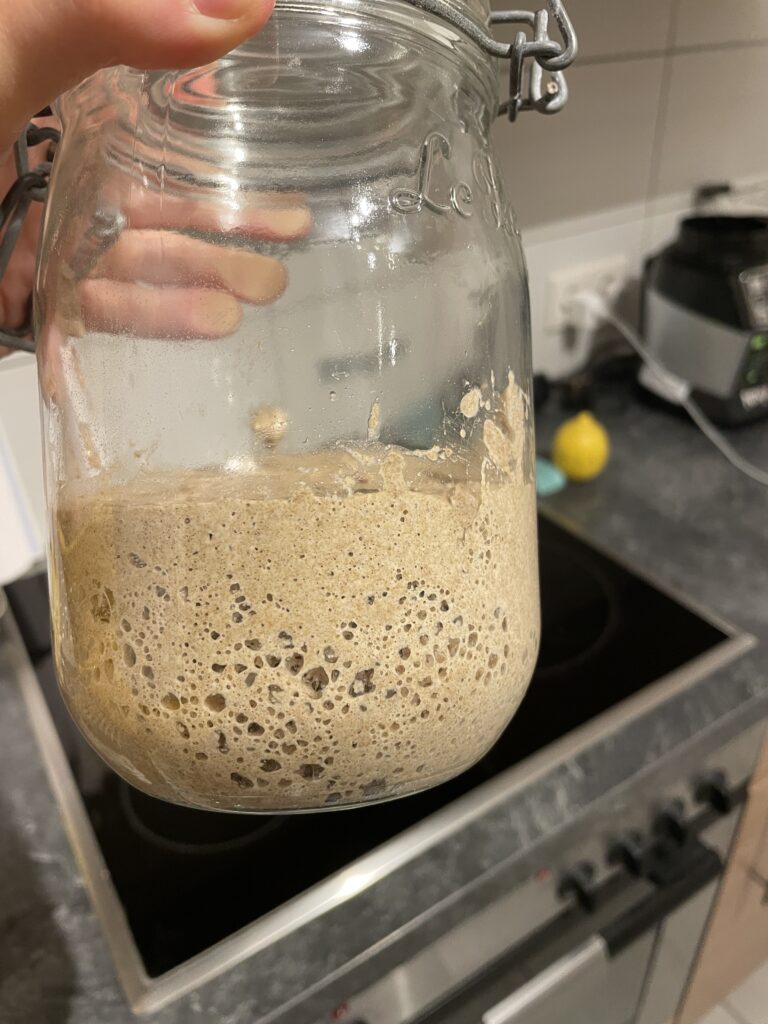 I am still knitting on my Moby Sweater by Petite Knit. But I made quite a bit of progress lately! I am working on the second sleeve right now. Once that is done I just need to add the neckline and the ribbing at the bottom. It won't fit over my bump but will probably be quite lovely to wear in the new year.
While in Portugal I knitted a little jumper for a friends baby. The pattern I used was Flaxlight sweater which is available for free from Tin Can Knits. It was the perfect holiday project: portable and I was able to finish it within the week!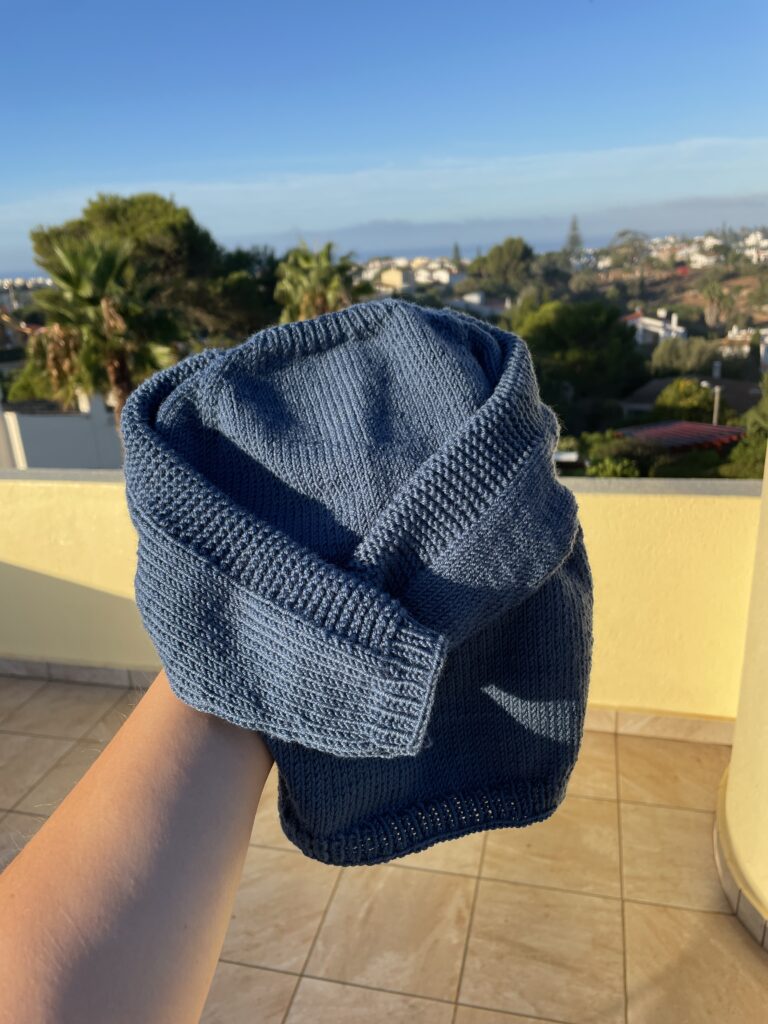 Other things that bring me joy right now
I have rediscovered my love for podcasts! I use the Pocket Casts App and rather enjoy it. It removes ads from most shows and also gives you the ability to create and very easily edit a queue. For most of this year I have been quite terrible at following anything that was happening politically or even current affairs. However, during the last few weeks I have been listening to a news roundup each morning and evening by the German newspaper "Spiegel". Additionally I listen to a weekly political analysis podcast called "Lage der Nation" which I would highly recommend. Other shows I love are the Jess Connolly podcast, the Love To Sew podcast, the Risen Motherhood Podcast and the Lazy Genius Podcast.
I have also realised that the easiest way for me to read the Bible right now is an audio Bible. On October first I have been reading through the New Testament following a Chronological Bible Plan. Tara Leigh Cobble has a podcast that accompanies this plan called the Bible Recap. She picks out a few themes each day and discusses some of the more difficult passages. This has been really great.
Thoughts and plans
When I was pregnant with SJ I did a daily creativity challenge for a while. It was really fun! I tried a lot of different crafts and new recipes. Doing this was very helpful especially as it was lockdown and I was in a lot of pain. I am debating doing something similar during this remaining time of my pregnancy. However, rather than trying new things I might do a challenge around finishing started projects and using up some of my yarn and fabric stash…
Before SJs birth I was overly optimistic about the me-time I would have. As SJ certainly wasn't like one of the babies in the books that sleep most of the day in some sort of predictable pattern, it was quite a while until I found time for crafting again. Even though I am praying that the new baby will be a better sleeper I still would like to finish off some projects before the birth. I shall keep you posted!
---
How have you been? Have you worked on any creative projects or read anything good lately? I'd love to hear!