8 min read
If you have read my blog last week, you know that I am currently participating in the LoveBlog challenge, hosted by Brita and today also by Mardra and me. Each day there is a prompt for a topic to blog about. Today's topic is inspiration. You can read my previous LoveBlog posts here. If you want to find out more about the challenge and how to participate just scroll to the end of this post.
If you have been reading my blog for a while or have clicked through the archives, you might have noticed that there are a couple of big time gaps in between posts here and there. I ran this blog as a hobby on top of a busy life, so sometimes time constraints keep me from writing. However, I have also had points where I simply ran out of inspiration.
I felt like I used up all my ideas for new posts and all other topics for content seemed stale and boring.
Writing can be hard
I would sit down to write, but the words felt wrong somehow. All my sentences came out way too long and complicated. And then I, sooner or later, I would throw up my hands in desperation and exclaim: "What am I even trying to say?!" and give up.
In a way, it is normal. Writing can be hard. It requires concentration. You need to be open, willing to share your thoughts and potentially expose yourself to criticism. Writing requires vulnerability. (And as discussed last week, vulnerability doesn't necessarily come naturally to me.) In summary: writing can be exhausting.
Further, inspiration is a fickle thing. It comes and goes.
But over time, I have developed some strategies to find fresh inspiration when all my ideas feel lifeless.
How to find fresh inspiration as a blogger
So if you maybe are in a bit of a blogging rut right now, don't despair! I am sharing all of my tips on how to find inspiration with you today.
Join a blogging challenge
As mentioned in the beginning of this post, I am currently participating in Brita Long's Love Blog Challenge. (Today is actually the last post!) The full challenge would have involved writing 20 posts over the month of February. I have "only" written 10, but that is still a lot more than I would normally publish.
The challenge encouraged me to write about topics I otherwise wouldn't have. Further, I feel like this regular practice of writing posts has improved my writing. (But you might be a better judge of this than me!)
There is also a weird thing that happens when you get into the habit of doing something. It becomes… a habit. Somehow sitting down to write most nights has become normal. I almost crave the feeling of my fingers hitting the keyboard, of developing an idea, of putting words together. The more ideas I tried to come up with for how to interpret each prompt, the more flashes of inspiration I had.
Creativity breeds creativity.
Obviously, the Love Blog challenge has finished now. But you could also come up with your own challenge or go on twitter and get together with some people to hold each other accountable. Come up with a theme or keep it open – there are many possibilities.
Find inspiration in other people's blogs
I often also find inspiration in reading blogs by other people. Sometimes I disagree with something they say and want to add my 2 cents to the discussion. Or I simply want to share my own take on a particular subject.
Finding new blogs to read is one of my favourite things, so feel free to leave your URL and those of any blogs you love in the comments below! My current favourite blogs are Sincerely, Colleen and Hannah Brencher's blog. You should definitely check them out.
Lose yourself in a book
Even more than reading blogs I love to read books. There is nothing like diving into a whole new world, getting to know the thoughts and circumstances of a character and accompanying them for a while.
Reading well-written books improve my own writing and often they spark ideas or provoke me to think deeper about certain subjects.
Widen your niche to find inspiration
I personally don't really have a narrowly defined niche for this blog. This blog discusses pretty much about anything that loosely falls under 'Christian living & general lifestyle', which is rather broad. It includes posts on what a Christian morning routine could look like, whether using social media is good or bad or explanations on how I set goals.
If I decided that this blog shouldn't only revolve around the environment (which I am extremely passionate about) I would probably run out of ways and angles to discuss this topic rather quickly. And as a person who is interested in so many things, having a narrow niche for my blog would leave me pretty bored.
Widening your niche will allow you to talk about a greater number of topics, and you inevitably will find it easier to stay inspired to write.
Don't be too rigid with your schedule
As discussed above, it is sometimes good to make yourself write. However, there are also times where it's helpful to take a break. Step away from your writing for a while. Allow yourself to loosen up on your blogging schedule. This is supposed to be fun, right? Don't take the fun out of blogging by putting yourself under too much pressure.
Make writing a regular practice in your life – and not just for your blog
One of the things that have helped me immensely with my writing for my blog is keeping a journal. Every morning I record my thoughts, the things God is speaking to me, what I am thinking about and whatever might worry me.
This practice of writing already gets my brain to work in 'writing mode' if you will. Also, it allows me to reflect and follow my own trails of thought. Often during these times of journaling I think 'I want to write more about this!' (And that's basically inspiration right?) That thought is typically a sign that a blog post might be brewing.
Grab pen and paper
Staring at a screen is not all that inspiring to me, if I am honest. There is something about a notebook and a pretty pen that gets my creative juices flowing more easily. If I lack inspiration I often take 10 to 15 minutes and just write out a bunch of spider diagrams or have a good old brainstorming session.
After that time I usually have at least two or three new ideas for posts. Then I just need to turn the inspiration into discipline and actually sit down and write the whole post. But I guess that's a topic for a whole other blog post…
How do you find inspiration for your blog? I would love to hear about it!
---
Meet your Love Blog Challenge hosts!
Blog // Twitter // Instagram // Facebook // Pinterest // Bloglovin
Britta blogs over at the Bright And Bold Life about her journey as Jesus-follower, wife, church planter, environmentalist and maker. She recently moved from the UK to Berlin with her husband to be invovled with a new churchplant. Her recipe for a good day includes coffee, bookshops, nature walks and knitting needles.
Blog // Twitter // Instagram // Facebook // Pinterest // Tumblr // Bloglovin
Brita Long is the pink and sparkly personality behind the Christian feminist lifestyle blog, Belle Brita. On her blog and social media, you'll discover more than authentic storytelling–she's brutally honest about pursuing a fulfilling and joyful life even with Crohn's Disease and depression.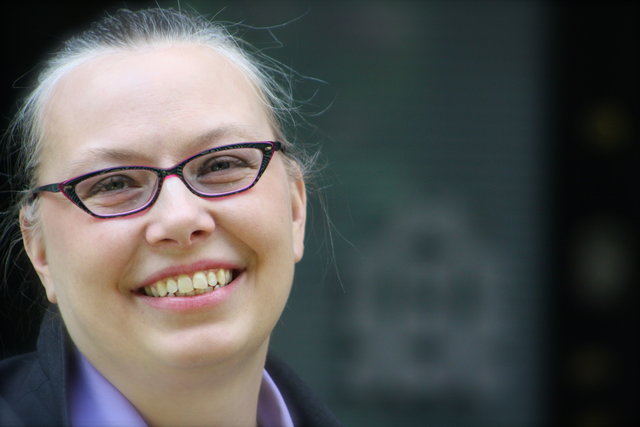 Blog // Twitter // Facebook // Bloglovin // Facebook Writing
Mardra Sikora believes in the power of words. She uses both fiction and non-fiction to advocate for and with her adult son, Marcus. She is co-Author of The Parent's Guide to Down Syndrome: Advice, Information, Inspiration, and Support for Raising Your Child from Diagnosis through Adulthood. Her work is also included in a variety of anthologies, national websites, and on her own website.
Participate in the blogging challenge!