6 min read
You guys. I think it is this time of year but right now I am buzzing with so many ideas for creative projects. Some evenings I have to make myself go to bed instead of googling DIYs or knitting "just one more round". I love being in this inspired, energetic state of mind. And I am trying to make the most of it.
So here's some of my current creative projects!
Knitting projects
After being in a bit of a knitting slump lately, I have picked up some of my yarny projects a lot more these last few days.
Itty bitty Raglan jumper
Well, this project is a bit of a bummer. I shared about it last time and my hope to not run out of yarn. Well, I am pretty sure now I will! Which is NOT motivating me to keep going.
Also, the proportions seem kind of weird to me. I followed the instructions of the pattern for how long to make the body, but it seems super short to me. In comparison the wide sleeves seem kind of odd.
I am really not sure what to do with this now. Continue the sleeves until I run out? Omit sleeves and instead add length in the body and treat it as slip-over instead?
Or just throw it in the bin? Oh boy! What do you guys think?
Moby sweater
For a while I have been dreaming about knitting the Moby Sweater by PetiteKnit. (In a way, I dream of making ALL of her patterns, they are just so gorgeous). I got a sweater quantity of merino wool during Black Friday. It was sat in my stash until this week when I decided to just go for it!
On Ravelry, the difficulty rating of the pattern is 5 out of 5. Ha! We will see how I fare. So far I am really enjoying myself. However, I also already managed to make a small mistake. But it is on the top of the back yoke, so I figure it will be concealed by my hair…
Sewing projects
When the temperatures get warmer I always feel so inspired to sew! Plus, seeing everyone's creations for Me Made May makes me super eager to make all of the things!
Ness skirt
It is finally finished! I had a hard time with the button hole (and many other parts) but I made it! I already wore it a couple of times and really like it! I haven't managed to get good pictures of me in the skirt yet, but here are a few shots of it anyway.
Scrunchies
In my last update post, I showed you the fabric strips I had cut out for scrunchies. Well, now they are finished!
However, I already lost one I think. Or SJ hid it somewhere, which is very possible.
A drawstring bag for toys
I shared recently how I managed to recreate the Montessori Animal Match Game. It was a really fun DIY. I sewed a bag, to store the game and I think SJ really likes it!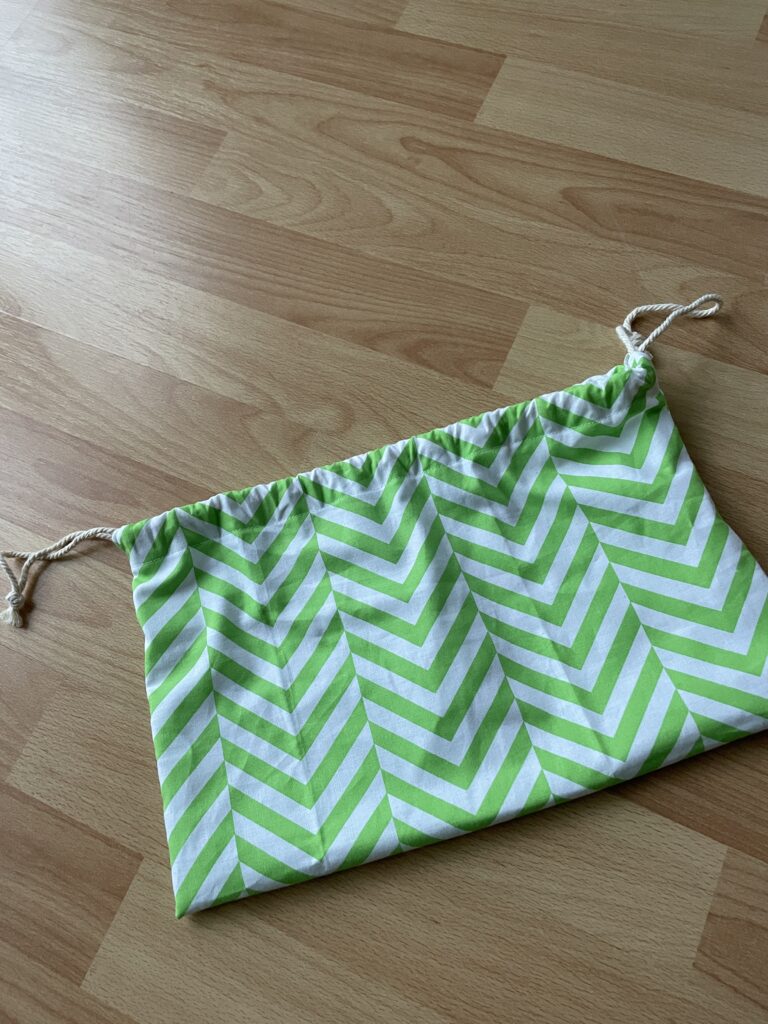 Jackson Tee
I recently looked through some of my fabric and pattern stash and tried to plan what I will make out of which material.
This little exercise was very inspiring and I realised I had a few jersey fabrics and a need for T-Shirts, with both long and short sleeves.
So, I used some fabric I once gotten for free to make a "practice" Jackson Tee. This was super helpful to determine what the size looked like on me, if I preferred it shorter or wider, etc.
The T-Shirt ended up fitting Edd much better tan me, so I gave it to him. Now I am planning to cut out a few more versions of the pattern.
It's quite an easy sew and the instructions are really clear and thorough. I am a big fan of Helen's closet patterns.
Blomma Tank
This is another jersey pattern. So far, I have only managed to print and cut it, but I am excited to hopefully make this during the next month as well.
What about you?
Are you working on any creative projects right now? I'd love to hear about them!
---
This is Day 86 of my 100 Day Project. You can learn more about my 100 day project by reading this post. If you want to do your own 100 day Project, I would recommend checking out the 100 Day Project website.