4 min read
In 2019 and 2020 I published a few of these weekly highlights posts and writing them brought me so much joy. Hence why I decided to bring them back! It's so fun to me to look back on those posts and read about the little things that brought me joy then. 2020 is not that long ago, but it feels like a different lifetime! We lived in Berlin, in the midst of a pandemic and had no children. Sounds quite relaxing, actually! Ha. Just kidding (maybe).
Social Media and other online spaces often get criticised for being "highlight reels" – people just share all the good stuff, which creates unrealistic expectations and leaves people a bit unhappy when they compare their own lives. So, to be fully transparent, this week was a good one, but quite ordinary. We had some colds, went to work, cleaned the flat. On Wednesday I had to pick SJ up early from nursery because they suspected she might have an eye infection. That meant I had to work during her nap and in the evening.
In the midst of all the mundane day to day and the chaos of parenting a toddler it can be easy to overlook all the wonderful things. Hence why I want to take the time to sit down, remember and preserve all the joyful moments of this past week.
So, here are some highlights as of lately:
Let's start with the most obvious one first, shall we? I have had so much joy blogging again! I decided to participate in the 100 day project. My goal is to write on most days over the next 100 days. Today we are on day 5 and so far it has been great! I love curating this little space on the internet I call my own. And I am so glad you are here to follow along! Thank you.
This next is a highlight from last week, but it was such fun I needed to share it here. Last weekend, Edd and I went to a "Fastnachts"-ball. Basically a carnival disco. It's a very traditional thing in our local area. We mostly went because it is part of the culture here with very little expectations. But we had so much fun.
I made two quiches and pizza during the last seven days. Maybe this isn't the definition of a balanced diet, but it was very delicious. Any dinner that involved dough or pastry is amazing in my opinion.
We also celebrated pancake day! They were delicious and SJ loved making the batter and eating the pancakes, so I'd call that a great success.
On Wednesday I cycled with Sarina to nursery and saw some very pretty frozen leaves on the way. Being outside early in the morning is magical.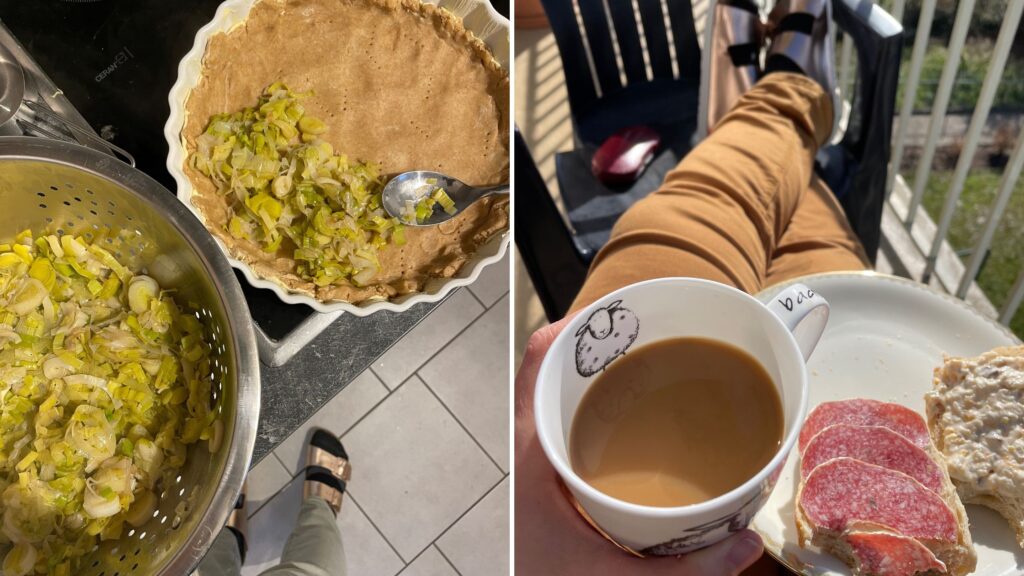 The weather has been super nice and I spent lots of time outside with SJ.
I also enjoyed the sun by having breakfast on our balcony one morning. It was only 10 minutes but if felt like being on holiday!
Another one of my highlights has been discovering all the things coming up through the soil in our garden. I planted a few bulbs myself, but there are a lot of tulips and crocusses that were lovley little suprises.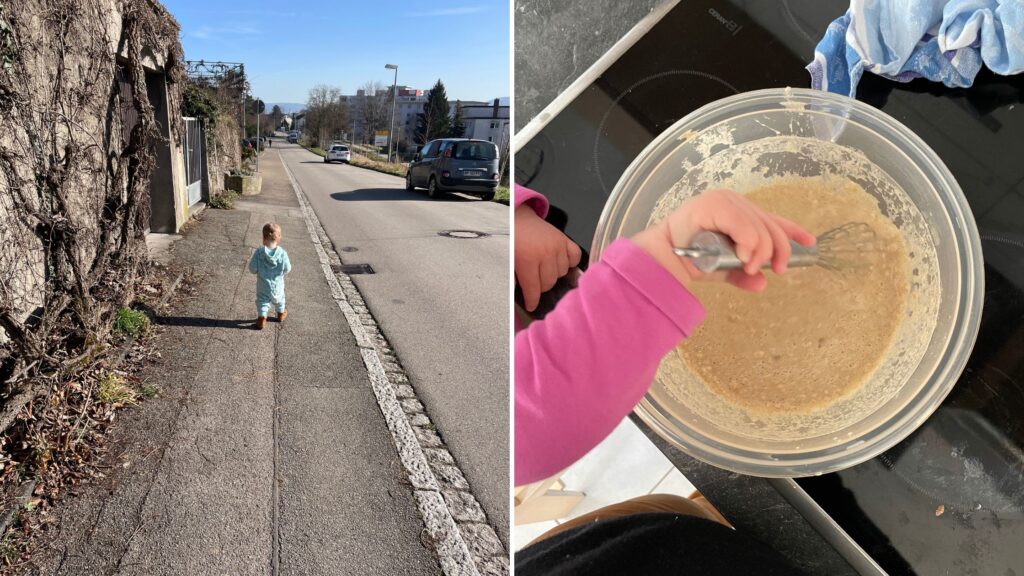 Thursday night Edd and I started watching "The secrets of Dumbledore". I am sad that Jonny Depp isn't in this one but otherwise we greatly enjoyed it.
I finished listening to the audioversion of "This is the story of a happy marriage" by Ann Patchett. It's a book of essays that she wrote over several years. I absolutely adored the book. The audio version is read by Ann herself which made it even better. It inspired me to write more! I would highly, highly recommend it.
During the night between Friday and Saturday SJ slept all the way from 8pm to 4:30am, which is never happened before! It was pretty amazing except for the fact that she was then WIDE AWAKE. But it feels like her sleep (and consequently our sleep) is FINALLY getting a bit better.
These were a few of these week's highlights! I would love to hear some of yours!
---
This is Day 5 of my 100 Day Project. You can learn more about my 100 day project by reading this post.