3 min read
Last year in June we moved into the flat that we currently live in. The flat is inside a house with a lovely, rather big garden around it. We are allowed to make use of some of the outdoor space, which is amazing. SJ has lots of room to play and I have lots of opportunites to learn about planting things and keeping them alive!
I am still very much a beginner when it comes to gardening but I am very keen to learn. My dream is to grow lots of different vegetables, berries and herbs. Plus, it would be lovely to have some flowers. A bouquet of fresh flowers makes such a difference to space. I love the idea of heading into the garden each week to cut some flowers for our kitchen table.
In order to learn from my successes and mistakes in gardening I wanted to keep a record of the things I attempt! For this purpose, I want to publish a monthly gardening journal sharing all the things I did in the garden.
February garden journal
I didn't spend loads of time in the garden this month, but I did do a few things!
Planting seeds
My mum gave me a seed advent calendar as a gift last December, and the other week we planted the first seeds together. Here's all the plants I sowed:
Gardener's delight tomatoes
Moneymaker tomatoes
Peppers
Lettuce
Celeriac
Cayenne Chili
We added the seeds to some empty egg cartons we had filled with compost. Currently they are on a window sill in my mum's house. The salad is already showing some signs of life! It's pretty exciting.
Watching bulbs grow
In December and January I planted a couple of bulbs in a planter and in different spots in our garden and I am so delighted to see them all coming through now! Everyday there is a bit more green sticking out of the soil.
The bulbs I planted were a cheap-ish multi-pack I had bought in Lidl. It was a selection of daffodils, tulips, alliums and snowdrops.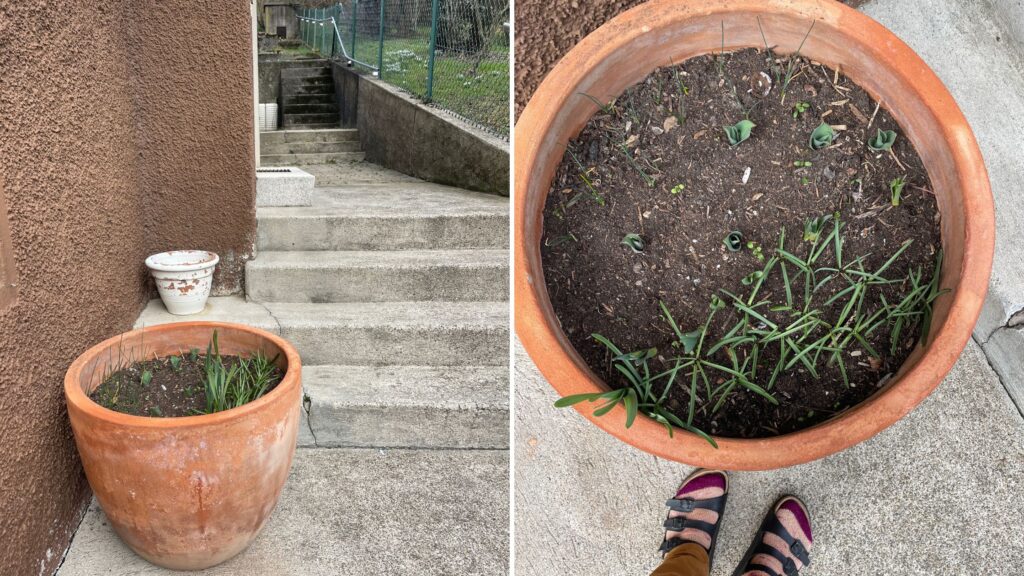 Exploring the garden
Obviously, we are not the first people who have lived and gardened here. I am pretty excited about a whole lot of tulips that are currently coming out of the ground, that I haven't planted myself but have been here before us.
Also, last summer I planted a fire lily and it is nice to see it regrowing after looking pretty dead during the winter months.
Otherwhise, I have just been doing little bits of weeding! SJ is getting happier at playing on her own in her sandpit for a few minutes which gives me some time to pick out some unwanted weeds from the different beds.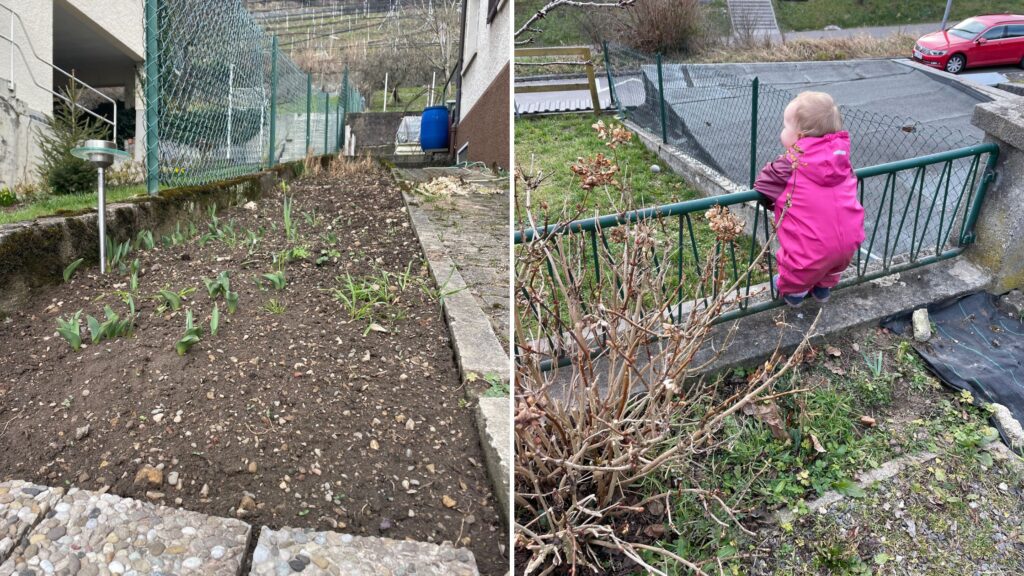 Do you have a garden? Or any gardening tips? I am very eager to learn!
---
This is Day 6 of my 100 Day Project. You can learn more about my 100 day project by reading this post.