6 min read
Right now, I am documenting a week in my life. Everyday I share some pictures from my day, and talk about what I did, thaught about and how I felt. I think having these little time capsules is so fun and precious. You can read the previous days here.
Monday, 24th April 2023
I am off from work this week! SJ is at nursery each morning, meaning I have a lot of time to relax and do nice things. Here's what I got up to on Monday!
Monday morning
After doing the usual morning things like making coffee, dressing our toddler and getting her out the door, I took care of some laundry and then did a workout. It was very sweaty but felt so good! Afterwards I showered, washed my hair and did my make-up.
To kick off my holiday Edd and I decided to spend a nice morning together. So we got a bus and went to Basel. It is so close to where we live and everywhere I am there or just drive through I think we should spend more time in this beautiful city! It's such a gorgeous place.
We are debating whether it might be time to upgrade my laptop. I bought my current MacBook in 2016 and it is starting to show a few signs of age. So we headed to the Apple Store to enquire about some options. I really hate spending money so decided that I will keep using my current machine for now…!
Afterwards we went to a really lovely coffee shop where we had a bite to eat and some excellent coffee. We then walked to a bus stop a bit further away and enjoyed the sun that had come out.
Lunch time
Back home, Edd headed to the office and I settled down on the sofa with some cookies and my Bible study for half an hour.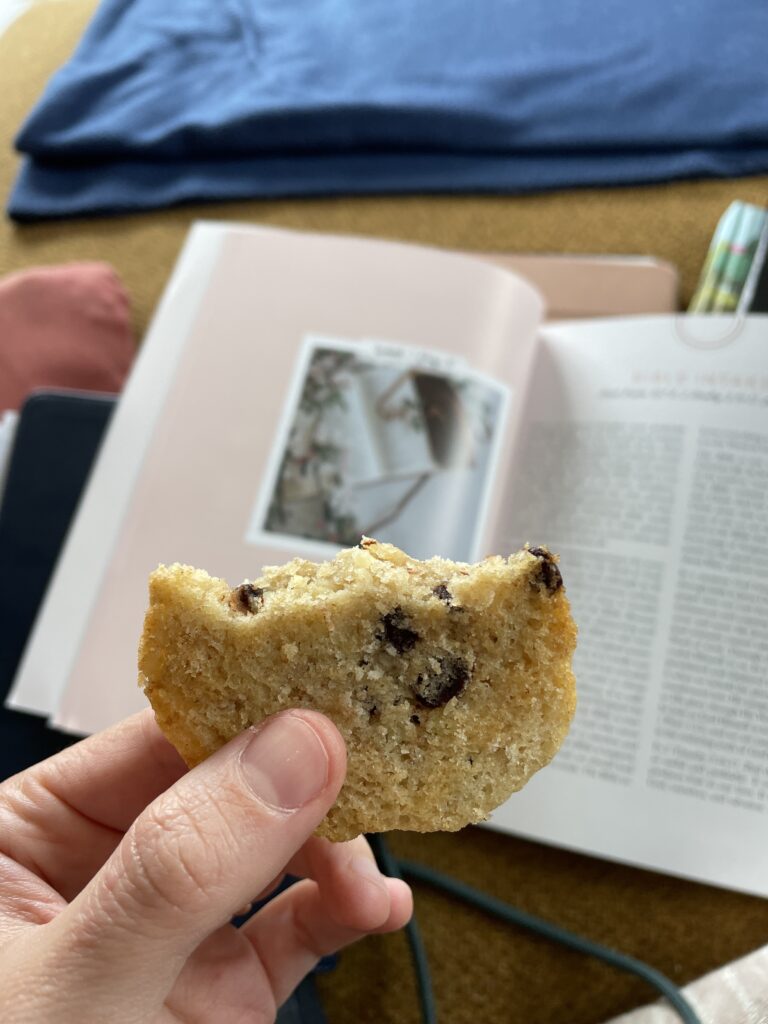 Then, my mother and I picked up my nephews and SJs from their respective playschools and nursery. SJ was so pleasantly surprised to be picked up by her cousins. She absolutely adores them. They call her their little sister which just melts my heart.
We had a snack with them at my parents house and then SJ and I headed to the playground.
Afternoon
We meet a good friend of mine with her daughter. The girls had fun going down the slide and SJ went up very high on the climbing frame. She then was unable to climb back down so I had to go up and carry her down. It's definitely worth working out and trying to stay in shape when having kids!
We then discovered to everyone's dismay that the ice cream parlor was closed. We changed our plans and went to a local bakery for some refreshments.
Back home, SJ helped Edd make dinner and I hung up some washing and watered my salad plants.
Evening
Edd is very committed to making sure I have a proper week off. He made us all dinner and after we had eaten he bathed SJ and sent me off to relax. I headed to my parent's house for a chilled evening of sewing. My mum helped me put the waistband onto my skirt. It took a very long time but it is done now and looks great! Now I just need to sew the buttonhole and button and finish the bottom seam.
When I got back home, Edd had cleaned the kitchen and put fresh bedding on our bed. It was so lovely! It was quite late, so I headed to bed, wrote a list for the next day and read a few pages in a new book from the library.
A very successful start to my holidays I would say!
---
This is Day 63 of my 100 Day Project. You can learn more about my 100 day project by reading this post. If you want to do your own 100 day Project, I would recommend checking out the 100 Day Project website.
I love hearing your thoughts and input on what you most like to read on here. It would mean so much if you would fill out my very short reader survey. Thank you!