6 min read
It has been a pretty good week. SJ was well enough to go back to nursery, which was a big relief! On Wednesday was my first day back at work after my holiday. I am not gonna lie – I could have done with another week off, especially after SJ being ill. However, I do love my work and I enjoyed the time at my desk.
However, I was a bit all over the place though. I think I was just out of routine a bit. I managed to practice piano exactly once and somehow I had forgotten to go grocery shopping. What I need is a day to reset, I think. Clean the flat, do some laundry and make a bunch of lists! Does anyone else feel like their constantly chasing their tales? It seems like as soon as I manage to get on top of things in one area, things fall apart in another. But this post is about the things I am grateful for, so let's focus on that!
This week's highlights
On Sunday it was Edd's birthday. We had such a lovely day. In the morning we had church at our house together with our friends Esther and Mo from England. It's always so nice when we have visitors and have a few more people in the room.
Edd celebrated with a BBQ in our garden. It started raining as soon as we sat down to eat, but we were under the balcony, so stayed dry! And it was actually super cozy.
Esther and Mo stayed until Monday night, so we still had the day with them on Monday. In the afternoon we headed to one of our favourite restaurants for a late lunch. They have a big playground outside, so SJ is a fan of the place, too!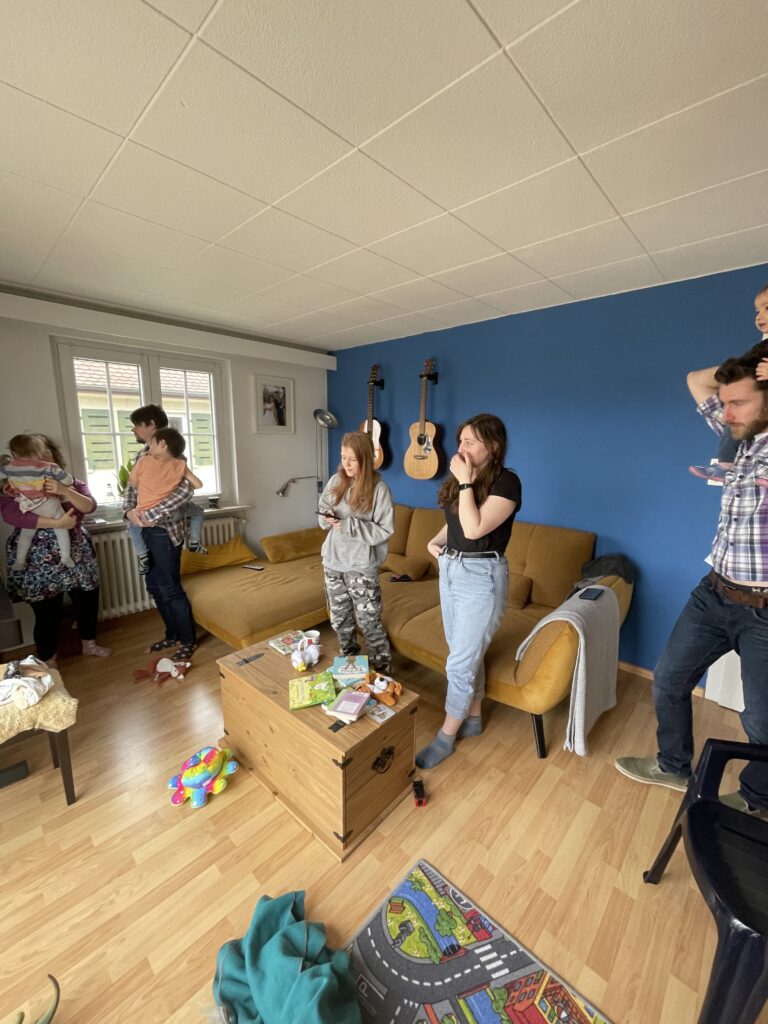 Every now and then, my dad and I make music together, he plays guitar and I sing. We had a couple of gigs already and always got such positive feedback, which was kind of unexpected for me! Monday night he and I met to practice some new songs and it was a lot of fun.
Tuesday was my last day off from work and I spent the whole morning while SJ was at nursery sewing. I finished my All Well Full Moon Bag (you can see some pictures of it here). I can't quite describe how happy those few hours made me. Sewing is such a wonderful hobby.
In the afternoon, SJ, my mum and I spend some time in the garden. We repotted some of our seedling. It's so cool to see how a plant grows from a little speck. Life is a miracle!
I sent out a newsletter! If you like you can sign up for it. My plan is to send one every Thursday during my 100 Day project with links to all the posts I published that week.
Before work on Wednesday I went for an early morning swim which was the best start to the day.
One of my oldest and best friends came to visit us one afternoon. We sat on our balcony, enjoyed the sun and caught up with one another. It was lovely.
I saw a rainbow!
Speaking of sunshine: The arrival of spring makes me SO HAPPY. Here is a little springtime appreciation post from this week.
With the weather getting slightly warmer I have been craving summer foods. So, on Friday I made a salad to take to small group and one for Edd and me. DELICIOUS.
SJ and I also made Pizza. She refused to eat it in the end, but if I had let her, she would have eaten the entire dough raw.
Friday morning I caught up with one of my best friends in England. Video calls are not the same as meeting in person but I am so grateful to be able to connect with my friends in the UK so easily.
What are some of your highlights from this week?
---
This is Day 33 of my 100 Day Project. You can learn more about my 100 day project by reading this post. If you want to do your own 100 day Project, I would recommend checking out the 100 Day Project website.