7 min read
Let's talk about celebrating wins.
Today was the last day of my holidays. The last two weeks I was off from work and had many big plans. I wanted to visit relatives and a close friend in Northern Germany. I had planned to do lots of writing, sewing and knitting, to play the piano for an hour every day and just rest.
However, SJ was ill. So, I spent most of my time snuggling with her, taking her to the doctor's and trying to entertain her. But rather than lament cancelled travel plans, sleep deprivation and zero hours of piano practice, I want to take a moment to focus on the positive and celebrate wins.
On celebrating wins
I think celebrating our wins is not something that comes naturally to most people. It certainly does not to me. My attention often shifts more to the things on my to do list that weren't crossed off than being happy about what I got done.
Saying "well done" to ourselves is not something that is necessarily encouraged in our culture. We are taught to be modest and humble. Patting ourselves on the shoulder for a job well done is quickly perceived as arrogant. Instead, the done thing is to crack a few self-depreciating jokes.
However, reflecting on what we could do better is only one aspect of learning and growing. Of at least equal importance is the question: What went well? What worked? Taking a moment to acknowledge my successes and celebrating wins helps me to be more grateful and stay motivated.
Research actually shows that we learn more from successes and rewards than we do from failures. Equally, studies also suggest that focusing on gratitude actually rewires our brain to experience more gratitude, leading to better mental health and increased feelings of happiness.
Successes to celebrate
So, here are a few of the things that I am proud of having achieved during the last two weeks.
Ness Skirt
I made some progress on my Ness skirt. It is still not finished, but I am close! There were some points where I could have cut corners to speed things up, but I am glad to have resisted that temptation. As much as I like to finish things, what is becoming increasingly important to me is to do things properly. I am not a perfectionist at all. Often that is a good thing, but many times I have run into problems later (especially when it comes to sewing) when I was too lazy to go back and correct mistakes.
So, I am celebrating the progress I have made but also that I chose to do things slowly and as best as I could, rather than to rush for a quick result.
PowerFlowerMai Socks
I finished knitting a pair of socks for my grandma! There were not just any old socks but all-over-colourwork socks and every line of pattern is different. The pattern I used is called Power Flower Mai and they are designed by DUCATHI. Knitting them took a lot of concentration and time. So, making these for a person with bigger feat than mine was true labour of love!
I am so happy with how they turned out! I have made colourwork socks before but was a lot more diligent about catching my floats this time (weaving in the strand of yarn you are not using at the back), which made a big difference. I am still not perfect at knitting colourwork, but am definitely getting much better!
All Well Full Moon Bag
I made a bag! I am actually so happy about and proud of this finished object. The Full Moon Bag is a free pattern by All Well Creative Studio. I cut the pattern pieces two years ago (!) and embroidered some flowers onto them. Now I finally sewed it up! It was great to have a project that was relatively quick to make but that still had a few challenges. Inserting a zipper, binding seams and sewing with leather took a bit of concentration, which made the project very fun and intersting to me.
I might go back and add some interlining to make the bag a bit sturdier. The fabric I used were some leftovers I had from making a pair of trousers. The pattern suggestes a heavier weight canvas, which would be less floppy than my version.
My 100 Day Project
I published blog posts every single day. I can't quite believe that I have now managed to write for 29 consecutive days. It's still a long way off to 100, but I am growing more invested and confident to complete the next 71 days as well.
Reading
I finished reading two books ("My Darnk Vanessa" by Kate Elizabeth Russell and "Circe" by Madeline Miller). I am a bit over half-way through listening to Matthew Perry's Memoir "Friends, Lovers and the Big Terrible Thing" and started reading "The School for Good Mothers" by Jessamine Chan.
Prioritising people
I spend time with friends and family. We drove to the Black Forest to see a friend, had people visit this weekend and the one before, I took SJ to a birthday party, we celebrated Edd's birthday with my family and I had the most wonderful zoom catch up with a good pal.
Moving my body
I worked out twice! Not as much as I had hoped but so much better than zero times. So yay me! I currently do this workout most of the time. It's SPD friendly, so works very well for me. I also went on a few cycle rides and a number of walks, plus spent a lot of time outside with SJ.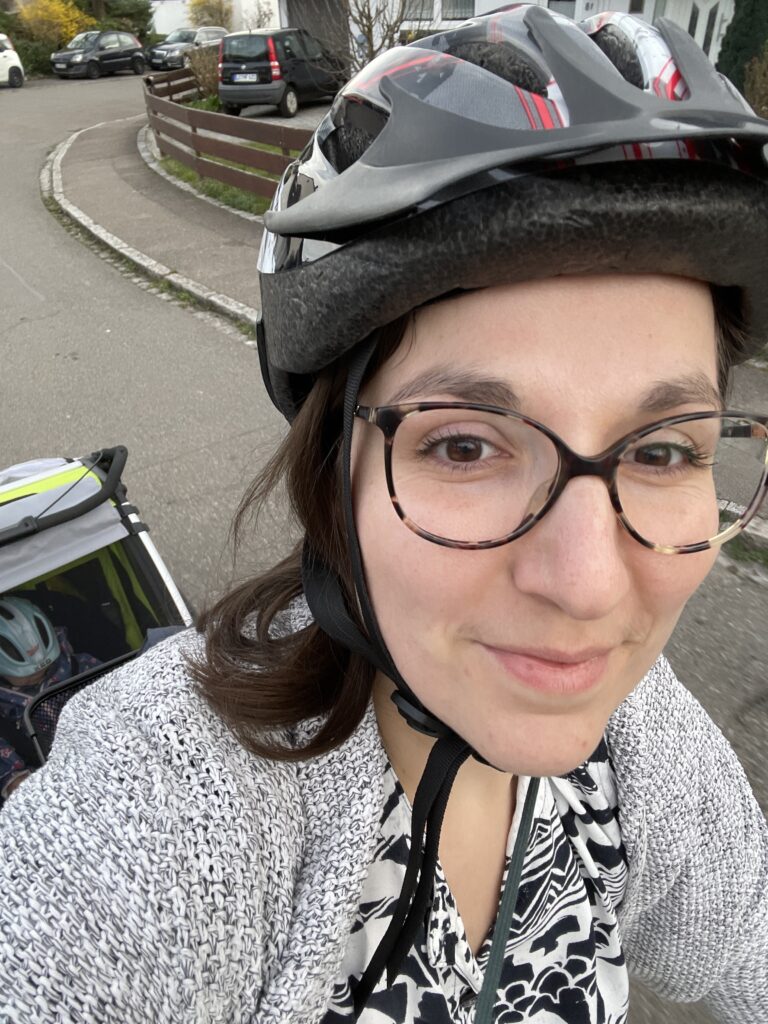 I would love to hear about some of your recent wins and successes! Feel free to leave a comment below so we can celebrate together!
---
This is Day 29 of my 100 Day Project. You can learn more about my 100 day project by reading this post. If you want to do your own 100 day Project, I would recommend checking out the 100 Day Project website.